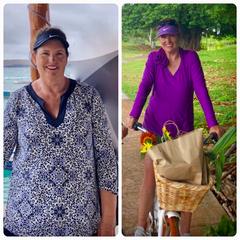 Thank you to The Health Coach Gals, and my 90-Day Transformation with Seana Mahoney. Seana is lovingly honest, inquisitive, and reliable. Seana provided me with the best practices to better take care of myself. Coming from a "self-help" aficionado, I thought I had numerous "best practices" already in place, but Seana helped me see things I couldn't reveal to myself. I am so much more free, honest, and light-hearted (and now 30 pounds light weighted)! My husband and kids see a huge difference in my disposition (much happier, funnier and energetic) and my love and ability to receive love is magnified like I'd never imagined. Seana is pure love, and her love of life and honesty is infectious! My Health Coach Gals investment is the best investment I've made in myself in decades!
This photo was taken just before my 90-day Total Transformation—in a happy place doing things I love, with people I love! So here I was happy, but I had no idea how much more happy I could be!
10 months later— after applying the much needed and new practices that Seana coached me to, and through-I feel lighter, freer, more authentic, more loving, and loved.
These are two photos that best represent "before and after"— tennis visor, SPF cover and doing things I love.
And my numbers don't lie…
Lost 31 pounds (so far).
Lab blood work came back with impressive results:
Triglycerides (mg/dL) at 76 "optimal" (Triglycerides were at 121 when cholesterol was at 260)
HDL 60 and total cholesterol went from 260 to 207 with no statins or cholesterol medications involved at any time.
So doctors have concluded that I NOW have healthy fats in my system, leading to good brain and body health and with triglycerides so low, I have no sugars poisoning my heart heath or inflammation.
So the 31 pounds was a great physical relief to finally have off my body, so I no longer hide a muffin top or have to find clothes to cover my waist. Now I have cute, fun, appropriate clothes that turn heads. And equally important is that my path towards heart disease and chronic inflammation has been interrupted, and reversed! I sleep better, literally and figuratively, knowing I am healthier and can have a better quality of life as I age (56 now).
Seana, you're the best!
Janet